All-On-4 Dental Implants Leicester
Dental Implants For Missing Teeth In Leicester
All-On-4 Dental Implants, The Permanent Solution
Do you suffer with gaps in your teeth perhaps due to gum disease or tooth decay? Or do you have several rotten, damaged or loose teeth? If so, dental implants can make a huge difference to your life and restore your smile as well as your confidence. 
All-On-4 dental implants is a revolutionary treatment which can replace multiple missing teeth or a full set of teeth.
At Oakdale Dental, we have treated a vast number of patients for All-On-4 in Leicester including Oadby, Glenfield, Groby, Enderby, Wigston, Thurmaston, and Birstall.
What Is The All-On-4 Procedure?
All-On-4 dental implants replace missing teeth or a full set of teeth using a dental bridge or plate which is supported by just 4 implants. As fewer individual implants are needed, the treatment times and the costs can be dramatically reduced making it more cost effective. 
All-On-4 in Leicester is therefore a good option to consider if you are missing a full set of teeth, a full set lower jaw or full set upper jaw.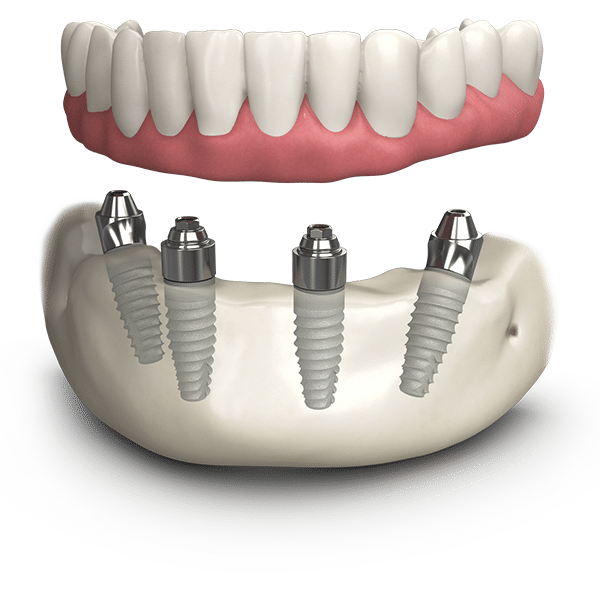 The Benefits Of All-On-4 Treatment In Leicester
All-on-4 dental implants have the following benefits:
Natural Permanent Teeth: All-On-4 can permanently and naturally replace teeth making it a good option if you don't want to wear or struggle to wear poor fitting dentures.
Cost Effective Solution for Full Set Teeth: If you have multiple gaps or missing teeth, this is the most cost-effective way to replace those gaps. And give a set of teeth to allow you to chew and smile with confidence.
Faster Treatment Time: All-On-4 can be less invasive and have a faster treatment as well as a faster healing time than opting for several individual dental implants. There are instances when we treat patients with All-On-4 in Leicester and can offer same day teeth.
Restore Your Confidence: With All-On-4 dental implants, you can regain your smile and restore your confidence!
All-On-4 in Leicester has become increasingly popular with many people who no longer want to put up with gaps in their teeth, don't want to wear conventional dentures or wish to replace their unsightly damaged or decayed teeth. Our patients from areas including Wigston, Glenfield, Birstall, Groby, Thurmaston, Oadby, Enderby and all over Leicester have been amazed by the results and we are sure that you will be too!
Why Choose Us For Dental Implants Treatment
FREE 5 year guarantee on all dental implants
FREE consultation with our dentist
CT Scan included (usually £175)
Late night opening on Thursday until 7.30pm
Specialist dental implant referral centre with expert staff
Flexible finance plans to help with treatment fees
What's Involved With All-On-4 Dental Implants?
At our initial consultation we will examine your teeth and discuss how we can best help. Perhaps you are looking for a full set of teeth? Maybe you need a full set lower jaw or a full set upper jaw? 
Further appointments will then be booked to X-Ray your teeth, discuss your health and treatment. Then we can scan your mouth and digitize your jaws so that we can work out the fine details of your treatment on advanced planning software long before we place the implants for you.
The next appointment will be scheduled to fit your All-On-4 dental implants in Leicester. In many cases this happens in one appointment so that you will have same day teeth. The implants will be inserted into your jaw in such a way that over time they will fuse to your natural bone. Depending on your treatment, your new replacement teeth will be fitted to the implants at this stage, or they may be fitted at a later date. If this is the case, you will be fitted with temporary teeth until your next visit. 
You can then enjoy your brand-new smile!
Why Book A Free Consultation?
Get an accurate cost of your treatment
Discuss the best treatment option for you
Learn about our 5-year guarantee on dental implants
Learn about our finance plans to help with treatment fees
Discuss IV sedation if you are a nervous patient
Meet the dedicated and committed team
Oakdale Dental can talk through all the options for missing teeth with you, so call us today on 0116 26 27 150
Get £245 Savings On Dental Implants Treatment Today
Call us on 0116 26 27 150 or complete the form below and we will call you back with appointment times
"I had a surgery for 2 wisdom teeth. Dr Al-Sarraj explained the surgery. His patience and kindness is unique! 5 months of pain and no doctor wanted to remove them because it was very close to the nerve and I could be paralysed, but I can now smile again. I came out smiling and singing. Thank you for everything."
"Exceptional service and care. My dentist was an absolute gentleman who clearly takes pride in his work.
I had a dental implant in a front upper incisor. The final result was outstanding. My smile is finally back.
Thank you to all involved."
We Offer Appointments To Suit You