Dental Implants Leicester
Dental Implants For Missing Teeth In Leicester
Why Choose Us For Dental Implants Treatment
FREE 5 year guarantee on all dental implants
FREE consultation with our dentist
CT Scan included (usually £175)
Late night opening on Thursday until 7.30pm
Specialist dental implant referral centre with expert staff
Flexible finance plans to help with treatment fees
Dental Implants For Missing Teeth, Leicester
Whether you are missing a single tooth or you're missing multiple teeth, we know how gaps between your teeth can affect your self-confidence and your ability to smile.
Here at Oakdale Dental in Leicester, we offer the broadest range of dental implant and denture services; the most permanent solution for missing teeth. Being a specialist referral centre, we also take on many referrals from other dentists for all oral surgery procedures, including:
Single tooth replacement
Multiple teeth replacement
Full set of teeth replacement
Implant supported bridges
Dental implants genuinely improve the quality of life for people who lose their teeth. They provide high levels of comfort and improve a patient's self-confidence. Implants are now routinely used in Leicester, and the UK in general, as they are considered the most permanent and up to date system for restoring both tooth appearance and function.
How We Place Dental Implants
This patient had implants placed LR6 and LL6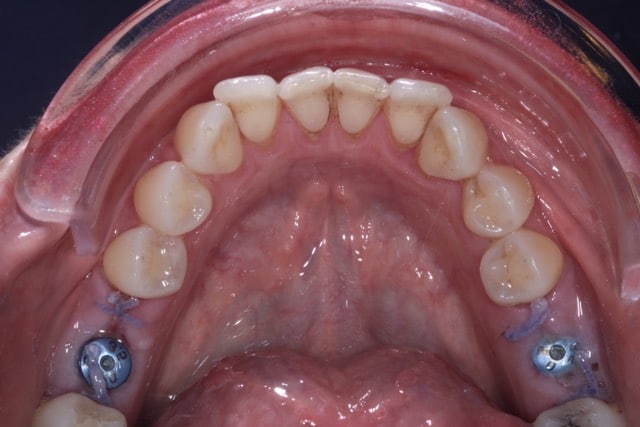 After the crowns are fitted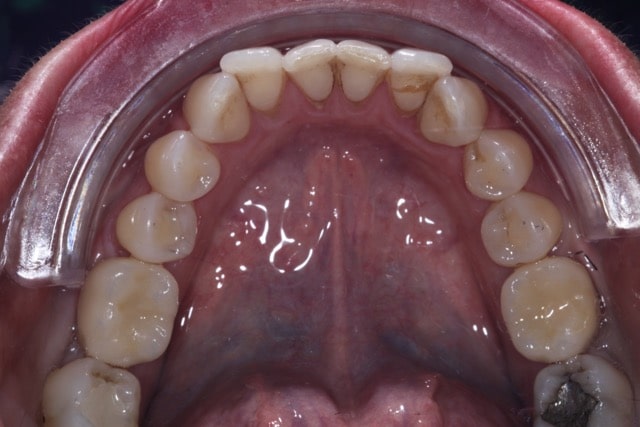 Treatment completed within 2 months.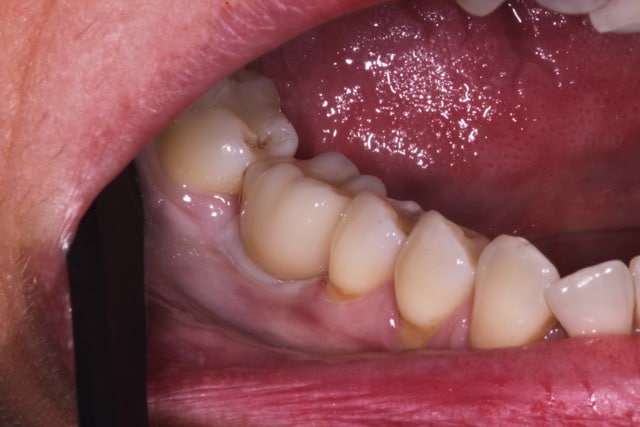 Why Book A Free Consultation?
Get an accurate cost of your treatment
Discuss the best treatment option for you
Learn about our 5-year guarantee on dental implants
Learn about our finance plans to help with treatment fees
Discuss IV sedation if you are a nervous patient
Meet the dedicated and committed team
Oakdale Dental can talk through all the options for missing teeth with you, so call us today on 0116 26 27 150
Get £245 Savings On Dental Implants Treatment Today
Call us on 0116 26 27 150 or complete the form below and we will call you back with appointment times

What Is A Dental Implant?
Dental implants have been used successfully for over 30 years to replace missing teeth and fixing loose dentures. They are made from pure titanium, and when placed in the jaw the dental implant bonds firmly with the surrounding bone. This can then be used to support a crown or a bridge or dentures. They are essentially made in the shape of a cylindrical or tapered screw of about 3 – 6 mm in diameter and 6 -16 mm in length. Generally they function in a similar way to the roots of natural teeth.
Dental implants can be used to replace:
a single missing tooth
multiple missing teeth
a full replacement of the top jaw, bottom jaw, or both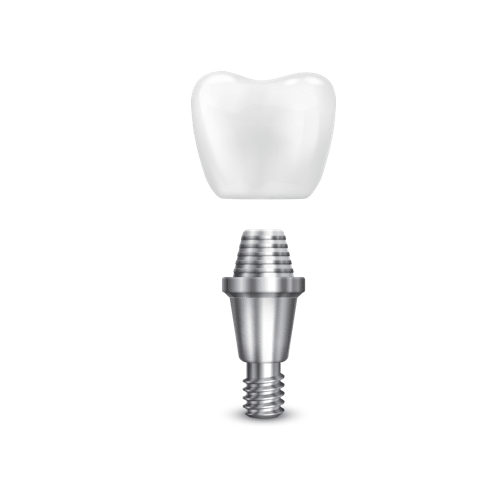 What Are The Benefits Of Having Dental Implants, Leicester
Being a specialist referral dental practice for oral surgery, Oakdale Dental can help with all your issues related to missing teeth. Restoring missing teeth with dental implants has several advantages over removable dentures and conventional dental bridges.
1. Dental implants are independent, freestanding units. There is no need to cut and damage adjacent healthy natural teeth for use as supports (as in conventional bridges).
2. As dental implants are attached to the bone, they offer greater stability than older methods such as gum mounted dentures.
3. Dental implants are solid, long lasting, and offer a very close look and feel as natural teeth. Like normal teeth, dental implants require care and attention; with maintenance, they are known to last for decades.
4. In some situations when too many teeth are missing it is not possible to place a fixed dental bridge and hence placing two or more implants to support crowns is the only option.
5. When teeth are lost the jaw bone and gums begin to shrink. Placing dental implant supported crowns helps to preserve and protect the jaw bone.
Before & After Dental Implant Treatment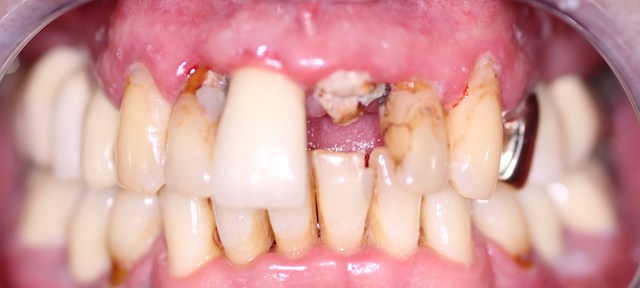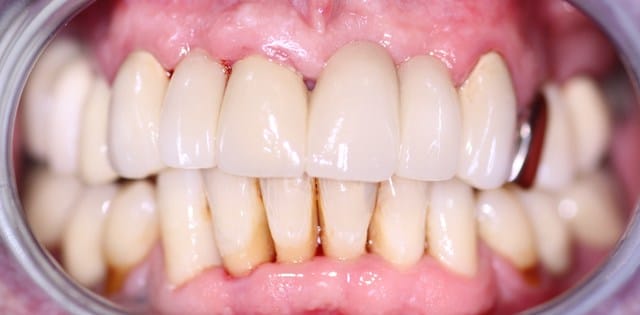 Slide right for BEFORE, slide left for AFTER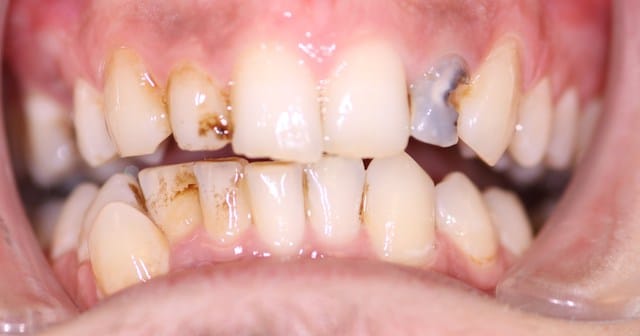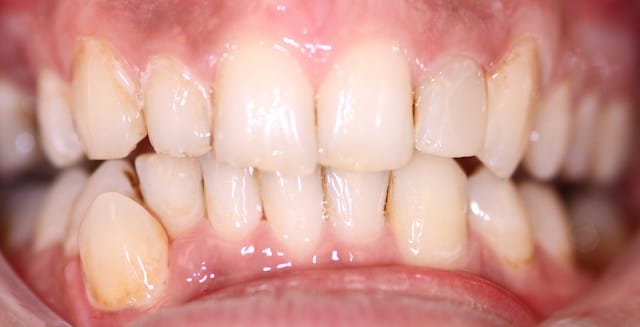 Slide right for BEFORE, slide left for AFTER
How Successful Are Dental Implants?
Dental implants have been in use for over 30 years. The majority of reports show survival rates of over 95%. There is therefore, a small possibility of implants not bonding with the bone, in which case the implant is removed, and after a healing period, a new implant can be put in its place (no additional charge will be made if a second implant is placed).
Our Dental Implant Procedure
Our 5 Stage Process For Tooth Implant Placement
Free Dental Implant Consultation With 'The Smiling Dentist', Dr Alif Moosajee And Our Patient Care Coordinator – Where you come in for a friendly chat to discuss your dental implant treatment options.
Treatment Planning And Costings
 – After examination of the mouth and x-rays, Dr Moosajee, your implant dentist decides upon the type and number of implants required, their sizes, and their exact positions in your mouth. He may also fabricate an implant guide to ensure the best possible positioning of the implants in your mouth.
Implant Placement
 – Placing implants in the mouth is a relatively painless procedure, and the majority of implants are placed using a local anaesthetic.
Implant Stabilisation Period
 – The dental implants need time to integrate with the bone before the final crown fitting. A

n interim replacement tooth can be provided so that you do not have a gap for this time. 

In most cases crowns may be fitted within three months after placing the implants. In certain situations, it may be completed earlier or delayed for up to six months.
Placing New Teeth
 – After the stabilisation period and the gums have healed, the final prosthetic teeth (crowns, bridges or dentures) are placed onto the implants. Now it's time to show off your new smile!
Aftercare Of Dental Implants
Following the completion of the dental implant treatment it is very important to look after the implants as well as the rest of your teeth. This usually involves maintaining good oral hygiene by brushing after meals, using dental floss or special brushes for cleaning the small gaps between the teeth and implants. Regular visits to the dentist and the dental hygienist are important in order to maintain the implants as well as the natural teeth in a healthy condition.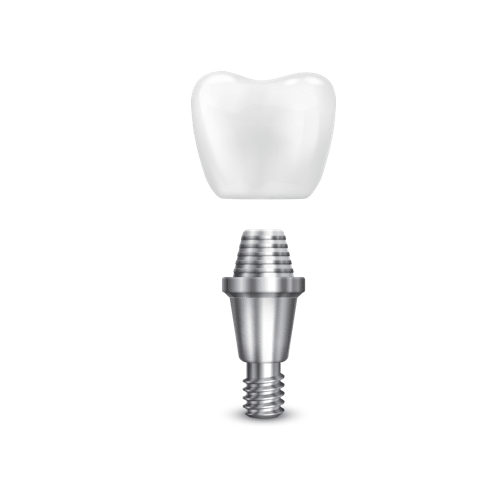 "I had a surgery for 2 wisdom teeth. Dr Al-Sarraj explained the surgery. His patience and kindness is unique! 5 months of pain and no doctor wanted to remove them because it was very close to the nerve and I could be paralysed, but I can now smile again. I came out smiling and singing. Thank you for everything."
"Exceptional service and care. My dentist was an absolute gentleman who clearly takes pride in his work.
I had a dental implant in a front upper incisor. The final result was outstanding. My smile is finally back.
Thank you to all involved."
We Offer Appointments To Suit You