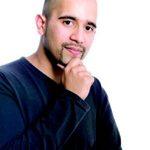 Dr. Alif Moosajee BDS MFGDP(uk) MJDF (RCS eng) is the owner of the prestigious Leicester-based dental Practice 'Oakdale Dental' which provides Dental implants, Orthodontic treatment and Facial Rejuvination along with cosmetic and general dentistry.
Alif prides himself on being able to communicate very well with patients and present complex ideas in a very simplistic and accessible way. It was this passion for communication that lead to the idea for this book. Alif's parents are from East Africa and this has fuelled his support for Bridge to aid.
A wonderful charity which not only sends dentists to the third world to help some of the poorest people by directly providing dental care to them, It also helps the dentists that go to leave a legacy by training a health care worker so that they can carry on the good work long after the dentist has returned home.
"I have owned Oakdale dental for eight years and did not want just anybody to take over. When I first met Alif I knew he would be the right person. He has great knowledge and ability as a dentist but more importantly he is kind, caring and patient. These are the qualities you need to have a great chair side manner and to really help patients. If you can not listen and communicate effectively as a dentist, you will never know what your patient wants and so you will never be able to deliver. At Oakdale dental we strive to put the patient first and always make sure we deliver. That is why Alif was the natural choice to succeed me as Clinical Director at such a prestigious practice but also the right person to write this book."
"Alif is a great dentist but he is also a fantastic teacher. I remember when we studied together as dental students. He was always the one that people used to go to to help explain difficult concepts in a simple, understandable and accessible way. He is definitely the right person to have written this book. The book that makes the knowledge that dentist's have accessible to all."
"I met Alif on many occasions at Post-Graduate CPD and find him a hugely committed young dentist who is pursuing a course of excellence to try and make himself the best practitioner possible. I was given an advance copy of his book 'The Smiling Dentist' and was fascinated by the concept of writing a book for patient information, which would be ideal for waiting rooms and to give patients ideas on informed treatment choices. I think this is a great idea, it's not a "big sell" and is a very useful tool for patients to make informed decisions regarding their treatment which I think is the only way forward for our profession. The book also donates it's profits to Bridge2Aid which I am a huge supporter of so I wish Alif the best of luck with this excellent project and would advise anyone to pay attention to this when they come across it."
"Looking after your teeth is so simple, but so important. The consequences of not doing so are painful and debilitating. Thankfully in the UK there is a great book like 'The Smiling Dentist' to advise us, and skilful dentists like Alif to turn to.
The communities we work within East Africa have no-one to help them, which is why our work training local health workers to provide simple treatment is life changing. More of it will be made possible by the generous contribution from Alif, and we're extremely grateful for his support."