Types of Implants in Leicester
The dental implant options depend on your individual needs. Your free initial consultation with our treating
dentist is the start of your dental implants journey, and it can provide you with information on the options available. But to help you get a sense of what's available prior to your appointment we have outlined some treatment options below.
Alif has a special interest in placing and restoring dental implants
Are You Missing Teeth?
Book A Consultation
For Dental Implants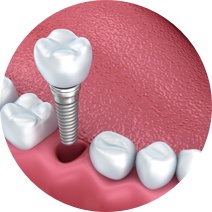 Single Tooth Replacement, Leicester
Dental implants are strongly recommended for replacing a single missing front or back tooth. A single implant supported crown is placed in the gap thus avoiding the need to wear a single tooth denture or cutting other teeth to support a bridge (as these options can be uncomfortable and difficult to maintain).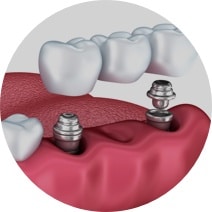 Multiple Tooth Replacement, Leicester
If you have more than one missing tooth then it is essential to get these missing teeth replaced before it causes more damage within your mouth, and the best way to do this is using a more economical solution rather than having an implant for each missing tooth; two or more implants are placed in the gap to join multiple teeth together, and crowns or bridges are fitted over them.
Replacing lost or missing teeth will give you new strength and stability that allows you to eat what you want, as well as preserving your jawbone and facial appearance.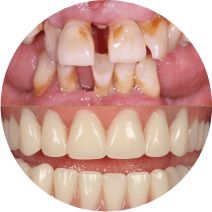 Total Replacement – When All The Teeth Are Missing
When all of the top or bottom teeth are missing there are two implant treatment options: fixed bridges or removable dentures. The treatment which is best suited for you will depend on a variety of factors, such as your budget, quality of your jaw bone, and overall health (smoking, medical history, etc).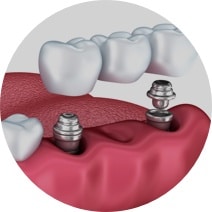 Implant Supported Fixed Bridges
Implant supported fixed bridges are a great way to replace an entire row of teeth on either the upper or lower jaw. You cannot take the fixed bridges out yourself (unlike the removable dentures), and only your dentist can remove them if required for maintenance purposes. This option may be suggested if you do not wish to wear full removable dentures, especially if you find them uncomfortable to wear, or difficult to maintain. In this case 6 or 8 implants are placed in the jaw and bridges are fixed over them. They function in a similar way to natural teeth.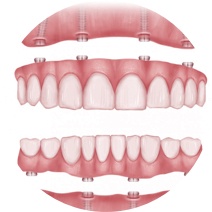 Implant Supported Dentures
Loose dentures can be embarrassing socially and painful to chew with. This problem tends to get worse with time and advancing age. The main reasons for this is atrophy (shrinkage) of the jaw bone which supports the denture in which the ridges become flatter with age. The other reason is that the oral mucosa – the skin upon which the dentures rest, becomes more delicate and tender with age.
Implant supported dentures allow you to snap them on to your implants yourself. The more implants you have fitted will mean better retention. These dentures provide an affirmative and firm support, making them secure and much more efficient for chewing. The implants bear the majority of the load therefore eliminating the pain caused by pressure from the denture.
The dentures can be removed for cleaning and placed back over the implants. This method is simpler and cheaper compared to having a full set of fixed dental bridges.
All of our dental implant based treatments can make a real difference.
Call today today on 0116 26 27 150
to book your free consultation.
I would highly recommend Oakdale, especially if you are looking into implant treatment. Dr Alif and Hannah are amazing and have given me a permanent front tooth that matches the rest of my teeth. The fixed price for an implant means that there are no hidden extra costs and you don't have to worry if extra appointments are needed. All of the staff are so friendly and made me feel very comfortable, and the procedure itself was pretty much painless!
Had an excellent experience at Oakdale. The service was great, all the staff are welcoming and friendly. The work done by Alif and Hannah was amazing, I feel so much more confident with my smile now. Would definitely recommend the surgery to anyone.