Our Dental Implant Procedure
Our 5 Stage Process For Tooth Implant Placement
STAGE 1: Free Dental Implant Consultation With Our Patient Care Coordinator – Come in for a friendly chat to discuss your dental implant treatment options.
STAGE 2: Diagnosis With CT Scan Or X-Ray
 – After examination of the mouth, teeth x-rays and plaster models of the teeth, the implant specialist decides upon the type and number of implants required, their sizes, and their exact positions in the mouth for that particular case.
STAGE 3: Implant Placement
 – Placing implants in the mouth is a relatively painless procedure, and the majority of implants are placed under a local anaesthetic (a few patients may need sedation).
STAGE 4: Implant Stabilisation Period
 – The dental implants need time to integrate with the bone before the final crown fitting. A

n interim replacement tooth can be provided so that you do not have a gap for this time. 

In most cases crowns may be fitted within three months after placing the implants. In certain situations, it may be completed earlier or delayed for up to six months.
STAGE 5: Placing New Teeth
 – After the stabilisation period, the final prosthetic teeth (crowns, bridges or dentures) are placed onto the implants. Now it's time to show off your new smile!
Aftercare Of Dental Implants
Following the completion of the dental implant treatment it is very important to look after the implants as well as the rest of your teeth. This usually involves maintaining good oral hygiene by brushing after meals, using dental floss or special brushes for cleaning the small gaps between the teeth and implants. Regular visits to the dentist and the dental hygienist are important in order to maintain the implants as well as the natural teeth in a healthy condition.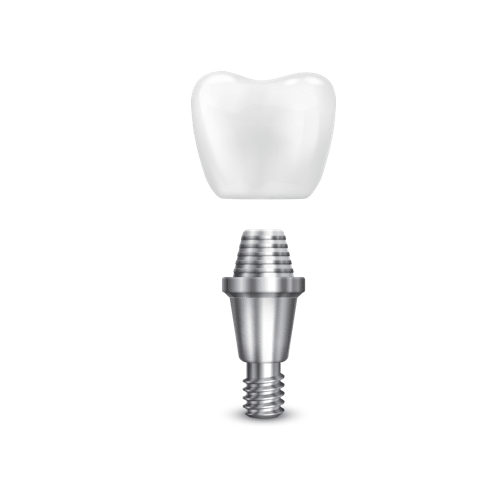 How Successful Are Dental Implants?
Dental implants have been in use for over 30 years. The majority of reports show survival rates of over 95%. There is therefore, a small possibility of implants not bonding with the bone, in which case the implant is removed, and after a healing period, a new implant can be put in its place (no additional charge will be made if a second implant is placed).
Dr Al Sarraj is a qualified specialist oral surgeon with a particular interest in placing and restoring dental implants.
Are You Missing Teeth? Book A Consultation For Dental Implants
Oops! We could not locate your form.
"I had a surgery for 2 wisdom teeth. Dr Al-Sarraj explained the surgery. His patience and kindness is unique! 5 months of pain and no doctor wanted to remove them because it was very close to the nerve and I could be paralysed, but I can now smile again. I came out smiling and singing. Thank you for everything."
"Exceptional service and care. My dentist was an absolute gentleman who clearly takes pride in his work.
I had a dental implant in a front upper incisor. The final result was outstanding. My smile is finally back.
Thank you to all involved."
Why Choose Us For Your Dental Implant Treatment
At Oakdale Dental we offer:
Free initial consultation with the Patient Care Coordinator to discuss your dental implant treatment options (£70 if with a dentist)
Expert staff who are fully trained in all areas of dental implants at our specialist referral centre in Leicester
Friendly, helpful staff in a family run practice established for over 70 years
Late night opening on Tuesday until 7.30pm
We Offer Appointments To Suit You